Blossom in a Drought
Viewed Last 24 Hours: 0 time
By Rich Tassinari
Other Poems by Rich Tassinari
---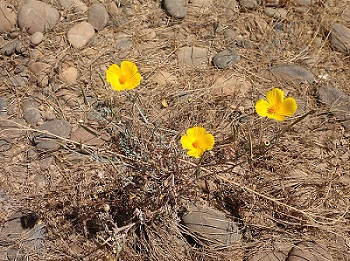 Blossom In a Drought
Where once the river used to flow
With springtime rain and melted snow,
The river's bed bakes in the sun,
The springtime river bed's undone.
There is no cool, refreshing rest,
No spray of flowers for a guest,
No soft, green grasses made to lie
Upon and gaze into the sky.
The spirit, too, has days like this,
When zeal is dry and fervor missed,
A heart in days of season's drought,
No bud to bloom, no stem to sprout.
Yet, on this rocky path I tread,
No longer springtime's river bed,
Three flowers blossom through the rock,
And I, in weather's change, take stock.
Three blossoms more delightful than
A field of flowers made to span
The width and breadth of earthly vale
When spring is full and hearts regale.
Three flowers golden-yellow bright-
A Trinity of Hope despite
My changing weather's faithless doubt,
Shows hope will blossom in a drought.
Rich Tassinari 6/19/16
---
Timely Comments on this Poem
No comments currently exist for this poem.
---
Submitted: Wednesday, June 22, 2016
Last Updated: Wednesday, June 22, 2016
About the Poet
Husband, father, grandfather, and each title is my joy. As a youth, poetry was a means to express the inexpressable. I was attracted to (and still am) the beauty and brevity of verse. All flows out from God, and like a proper prayer, can flow back.
---
Other Poems by Rich Tassinari
---
[Add Your Poem]

[Chime Of The Day] [Poetry Chimes] [New Chimes] [Poet Chimers] [Blog] [Chime Links] [ENC--Class of '55] [Home]