My Flowing Stream of Life
Viewed Last 24 Hours: 0 time
By Wendy Sparling
Other Poems by Wendy Sparling
---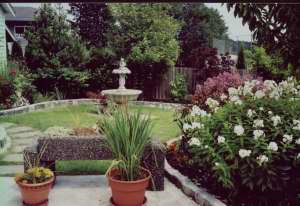 My Flowing Stream of Life


Gently grasping cherry blossoms
As they float in the breeze, the
Smiling cherub dropped them
One by one into the flowing
Fountain stream below.

Every dropped blossom is my heartbeat feltů

Cascading water blades slice
Into continuous unison rivulets,
And the angel choirs rejoice in
Harmonious singsong, while
Sparrows splash in the basin.

To live in harmony is what Nature dealtů



---
Timely Comments on this Poem
No comments currently exist for this poem.
---
Submitted: Wednesday, March 1, 2006
Last Updated: Saturday, July 21, 2012
About the Poet
I enjoy writing poetry, oil painting, gardening, fishing and anything I can create with my hands. I have 6 grandchildren, and have been married for 43 years. Life is good!
---
Other Poems by Wendy Sparling
Currently Playing: Climb Every Mountain from The Sound of Music
---
[Add Your Poem]

[Chime Of The Day] [Poetry Chimes] [New Chimes] [Poet Chimers] [Blog] [Chime Links] [ENC--Class of '55] [Home]